Delicate and beautifully stunning leaves for every home
HOW TO GROW ARALIA HOUSEPLANTS
Aralia houseplants are an easy-to-grow houseplant that has been popular for centuries. Aralias grow best in medium to bright but don't let the sun hit the leaves too long or it will scorch them. They appreciate higher humidity like a bathroom or kitchen and water them just enough from keeping the leaves from wilting. Aralia houseplant do benefit from being re-potted every couple of years just make sure the pot has good drainage. 
Grow aralia houseplants in medium to bright light. They tolerate medium light, but will grow faster and lusher in a bright spot.
Water aralia houseplants just enough to keep them from wilting. It's best to let the top inch or so of the potting mix dry before watering it again.
Aralia houseplants like average warmth between 65-75°.
Aralia houseplants like average to high humidity about 50% relative humidity or higher.
Like most houseplants, aralia houseplants are mildly toxic if eaten. They may cause some discomfort and vomiting when eaten. Keep away from animals and children.
ARALIA HOUSEPLANT VARIETIES
One of the best things about aralia houseplant is they are easy-to-grow, if you have enough light in your office or home. Their finely cut, divided leaves are some of the most beautiful around. They add the perfect amount of softness and texture you don't always get from other houseplants. Come check out the varieties and sizes of aralia houseplants that we carry at City Floral Garden Center.
The Ming Aralia bears a more feathery foliage than many of its cousins. The ming aralia is a stately small tree perfect for adding elegance to outdoor spaces and indoor areas with high humidiy like the bathroom or kitchen.
Fabian aralia shows off scalloped, dark green leaves. It grows upright and eventually develops a woody trunk. This is a beautiful plant that has an exotic look to it. Perfect for homes with bright light.
Polyscias fruticosa 'Snowflake Aralia'
Its ferny, feathery foliage droops from graceful narrow branches that grow straight up in mature plants to form a many-layered, complex plant. A Ming aralia grows slowly but can reach over 6 feet in height. You can also use this plant for bonsai if you want an exotic miniature.
Variegated Balfour Aralia
Polyscias balfouriana 'Marginata'
Showing off divided leaves and rounded leaflets, the balfour aralia has been popular for more than a century. Its emerald-green leaves are edged in white.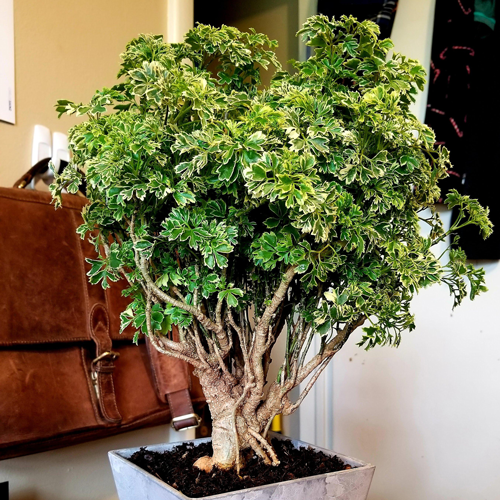 The Variegated Ming Aralia bears a feathery foliage with a edging of creamy color at the ends of the leaves. The ming aralia is a stately small tree perfect for adding elegance to outdoor spaces and indoor areas with high humidiy like the bathroom or kitchen.
Plerandra elegantissima 'Gold Crest'
One of the more beautiful varieties, Gold Crest false aralias offers feathery green leaves edged in gold. This houseplant will add a wonderful visual interest to any home.
HOUSEPLANTS TO PAIR WITH ARALIA HOUSEPLANTS
FICUS – Ficus houseplants are among the more popular indoor plants. They offer a lot of variety, from low ground cover to tall trees  each one giving a beautiful amount of texture and interest in any room. 
PHILODENDRONS – Philodendrons are the classic houseplant that nearly everyone has encountered at some point in their life. It's practically a no-fail houseplant because of how easy it is to take care of. You can grow philodendrons just about anywhere. They can be grown in a hanging basket, up a trellis, or simply a standard pot. 
FERNS – Ferns are easily one of the most loved houseplant. Mainly because of the huge variety available and that they are among the most beautiful. They have lacy fronds and a classic texture that work great in any home design. Ferns look wonderful when mixed together but also can look great combine with almost any houseplant. Come on by City Floral Garden Center and check out the huge selection of ferns. 
After this year's unseasonably warm no-snow November here in Denver, and with no significant precipitation forecasted
Read More »
We are, once again, hosting our annual Thanksgiving Centerpiece workshop, and the Champagne will be flowing.
Read More »
Carving pumpkins might be the most popular Halloween tradition (next to trick-or-treating) for many families in
Read More »