Let's Hear It for Hardy Hydrangeas!
Enhance Your Denver Garden with Beauty and Graceful Color
Big, colorful, clustered blooms are what make the hydrangea plant so special! With more than 70 varieties, you might be uncertain about which hydrangea shrub is best suited for your Denver garden. City Floral Garden Center is home to the hydrangea experts in the Denver area and not only offer a large variety of shrubs but also provide the right guidance to make sure you select one that will thrive in your yard!
Choosing the Right Hydrangea for Your Garden
Handsome foliage and big, beautiful summer blooms are what the hydrangea plant is all about!
Plan on pops of color and a brighter garden scene with hydrangeas that produce blue, pink, white or lime-green blooms. The shrub also offers different bloom types and leaf shapes to add variety!
As you plan out your landscape for hydrangeas, think about the impact you'd like this gorgeous shrub to make. A hydrangea planting on its own can make a striking statement! Or you could plant several hydrangeas for a flowering hedge or natural fence between areas in the yard. Smaller gardens may need one of the container or dwarf hydrangea varieties that are compact but with the same blooming impact!
City Floral Garden Center offers a wide range of hydrangea plants that are handpicked for success in Denver landscapes. Bigleaf hydrangeas, smooth hydrangeas, winter-hardy varieties like Annabelle and Incrediball, and the Endless Summer series are available. Oakleaf and panicle hydrangeas offer a different leaf and flower shape that can overwinter well in wintry Denver. These are just some of the shrubs we provide that are ready to make an impact!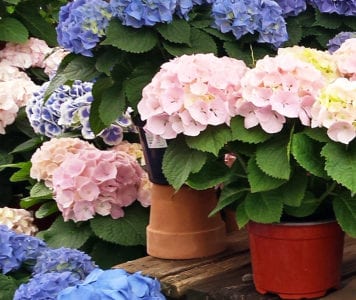 How to Care for Your Hydrangea
Hydrangea plants flourish when planted so they receive morning sunshine and afternoon shade. Sun is vital for healthy and abundant blooms! Hydrangeas grow well in north and east-facing areas and can even be planted under trees for filtered shade.
As with any plant or shrub, the quality of soil will help ensure its success. For Colorado, amending the soil with compost and peat moss helps provide the right pH environment but also helps with drainage. When planting, gently loosen the root ball and add long-acting fertilizer.
This shrub prefers moist, protected locations so planting nearer other plants with similar watering needs is a useful approach. Water your hydrangea regularly and deeply for the first two years, including once a month throughout the winter.
Hydrangea Expertise and Advice Blossoms Success
Our team is ready to help you determine the right location, right species, and right planting location for your hydrangea. We understand the ideal growing conditions and offer an extensive selection of hydrangea shrubs that will love being in your Denver garden!
City Floral has an extensive selection of the most beautiful annual plants around! Our own floral production means we offer plants designed to thrive in Colorado and we pride ourselves in providing full-color plant and flower options year-round.
Visit City Floral Garden Center at 1440 Kearney Street in Denver, CO to view our tree nursery, plants, flowers, garden tools, pots and outdoor furniture, gardening gifts or anything else you might need to have a beautiful Denver garden! We are a proud small business that has been serving Denver since 1911.